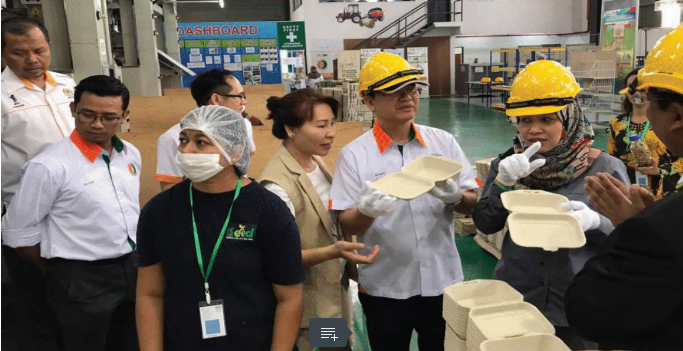 Towards creating high-value biodegradable products
 PENDANG: The Rice Straw Project under the Bioeconomy Community Development Programme (BCDP) is expected to enhance to the growth of high-value biodegradable products in Malaysia while promoting the country's environmental sustainability and advancement of green technology.
The project is overseen by Malaysian Bioeconomy Development Corporation (Bioeconomy Corporation) and involves a 10-year agreement signed between BioNexus Status company Free The Seed Sdn Bhd and Pertubuhan Peladang Kawasan Pendang Selatan (PPKPS).
Farmers from PPKPS will supply 57,000 metric tonnes of rice straw from their 12 estates to Free The Seed, who will process the rice straw by utilising their patented enzyme technology to produce biodegradable packaging products with an estimated worth of over RM7 million annually for local and export markets, including Netherlands, Germany and the United Kingdom.
Kedah State Executive Council Member, Dato' Norsabrina Mohd Noor who represented the Chief Minister of Kedah, Dato' Seri Diraja Ahmad Bashah Md Hanipah, said she is proud that Kedah can lead such an innovative initiative that transforms raw materials to high-value eco-friendly products while preserving the environment.
"The Rice Straw Project is in line with the aspirations of the Malaysian Government in optimising the use of existing agricultural waste resources to produce value-added products. This is an important step in Kedah's agriculture sector because the process in the whole value chain is environmentally friendly and prevents air pollution due to open air burning.