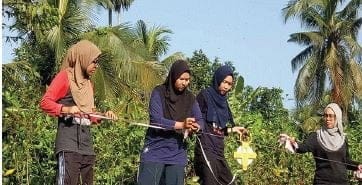 BY ASMAHANIM AMIR
IN ensuring that fireflies are preserved, Universiti Kebangsaan Malaysia (UKM), has conducted a study of the insects and received the largest fireflies research fund in Malaysia.
Chief Researcher of the Fireflies Habitat Conservation Project (KELIP2@UKM Group) Kampung Dew, Prof Madya Dr Norela Sulaiman said the research is funded by Tenaga Nasional Berhad (TNB) (RM1.09 million).
The research covers three spotted conservation areas, namely Kampung Dew, Semanggol, Perak; Yak Yah, Kemaman, Terengganu and Kampung Sg Timun, Rembau, Negeri Sembilan.
"This research covers the diversity studies of fireflies and insects, riverbank plants associated with fireflies. In addition, the research is also focused on land usage affecting firefly habitats in each study area.
"Moreover, the study covers the air quality in every river that affects the berembang tree (scientific name: Sonneratia caseoralis) and the study of birds, bats and aquatic life involved with the health of mangrove ecosystems is also done," she said.
She said the effort of replanting berembang trees is hoped to increase the population of fireflies in each study area that eventually improve the socio-economy of the locals through boat rental to bring ecotourism tourists who came to see the fireflies.
Norela said the villagers involved should be proud because the firefly habitat is unique, not all countries in the world are blessed with this firefly.
"Fireflies in Malaysia describe among those who have been successfully restored following
community awareness to conserve ecosystems where fireflies breed.
"Fireflies in Malaysia are also very unique as they flash simultaneously," she explained.  She said among the main species of fireflies studied were the Pteroptyx tener, the flickers flashing simultaneously with 3.7 perimeter per second found in all rivers studied, as well as Pteroptyx malaccae which also flashed simultaneously but were not found in all the rivers studied.-UKM