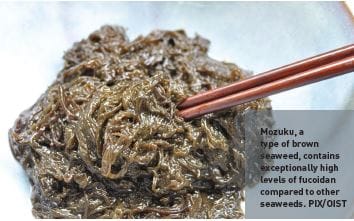 FOR the first time, researchers unveil the genome of ito-mozuku (Nemacystus decipiens), the popular Japanese brown seaweed, providing data that could help farmers better grow the health food.
The study, published March 14, 2019 in Scientific Reports, presents the world's first draft genome of ito-mozuku. Just three years ago, the unit released the first draft genome of another local species of edible seaweed, Cladosiphon okamuranus, called Okinawa mozuku.
Both seaweed species contain exceptionally high concentrations of fucoidan, a slimy substance thought to stymie the formation of blood clots and cancerous tumors, among other health benefits. The researchers have spotted which genes drive up this fucoidan concentration, a discovery that could have applications in the health food industry.
Besides revealing genes that imbue mozuku with health benefits, the research could be useful for farming. "My future plan is to establish new methods for cultivation of this species," said Dr Koki Nishitsuji, first author of the study and a staff scientist in the OIST Marine Genomics Unit. – OIST