As we draw the curtains on 2018, The Petri Dish's Shamira Shamsuddin and Farah Nadzri asked young technopreneurs who are MTDC fund recipients to share their ups and downs of this year and their resolution for the coming year. These young innovators also share their hopes and aspirations for Malaysia to embrace homegrown technologies.
Zharif Sharif
CEO, Sync Lab Sdn Bhd
The phrase "necessity is the mother of innovation" was proved right in the case of Zharif Shariff whose Sync Lab was developed after witnessing the communication breakdown between schools and parents. Though schools used Whatsapp group and social media, Information are not well delivered. This made him to develop a structured and organised mobile messaging application for schools in Malaysia which aims to connect the teachers with the parents and students. With this application, schools can be more discreet about their recipients, and parents and students are duly notified about the messages.
What are your ups and downs in 2018?
Earning the trust from the school administration was the biggest hurdle, as we were a new player in this field and permission from the Ministry of Education was required to introduce the application to the schools. Fortunately, the School Management Division in the ministry was ready to give it a try. We introduced the application through a pilot project where workshops were organised in 30 schools.
We printed 300,000 brochures and circulated to parents relating the ease of using the application. Today, 400,000 parents have downloaded the application and 7,000 out of 10,000 schools in Malaysia have subscribed to it. Then we had a happy problem. Traffic to the application was overwhelming and the system got congested and could not perform optimally. We were also approached by third parties who wanted to advertise and subscribe. We had to decline as the system was too congested and was worried that the application might not offer them maximum benefits. In July 2018, we upgraded the system to version 2.0 by increasing the speed and the function. The version is expected to be launched in December 2018.
What is your resolution for 2019?
We see the demand for this application. As for now, schools are subscribing to the app and payment is based on active usage. Our resolutions for 2019 are to monetise the application by finding investors and explore opportunities to introduce the application to food and beverage, and oil and gas industries.
As a pioneer in your field, what is your aspiration for homegrown technologies in Malaysia?
We hope that the Ministry of Education (MOE) will foresee the value the technology could offer to their stakeholders in terms of making communication more effective, structured, and organised. It could also be a cost-cutting measure as printing memos and letters could be a thing of the past. The Ministry could also avoid fake news being published on social media by using Sync Lab Application. We hope that MOE will be the first ministry to digitalise communications through Industry 4.0.
Arif Md Zain, CEO
Ahmad Hafiz, CTO
Orca GreenTech Plt
Switchgears are used for switching and protecting devices such as switches, fuses, circuit breakers and relays. For the switchgears to function in top notch condition, they need grease. The grease is usually synthetically made from petroleum. Arif Md Zain and Ahmad Hafiz worked on providing an alternative to the traditional lubricating grease when they chanced upon Universiti Malaysia Pahang's patented technology to produce grease from industrial waste. Known as GRUBBE, the grease produced through green technology was also a cheaper option. The duo later further innovated the technology to develop GRIX, a multipurpose lubricant suitable for many industries.
What are your ups and downs in 2018?
As we tried to achieve our KPI to develop the product and conduct market validation, we sent out thousands of emails and made hundreds of cold calls. Little that we know our product pitching was not working for us. After consulting TENTRA mentors, we learnt that quality wins over quantity. We revamped our marketing strategies and now we are happy that we are getting more companies interested to test our product.
What is your resolution for 2019?
We are now preparing for second round funding from MTDC. We hope to generate income for the company and expand our business operation. We also plan to set up our own manufacturing plant. In terms of strategies, we will be more aggressive and systematic in our operation by establishing SOPs.
As a pioneer in your field what is your aspiration for homegrown technologies in Malaysia?
We would not have taken off from the ground if not for the support from MTDC. But we hope the government will provide us more avenues to gain access to the market in green tech industry.
Wan Sabariah Shuib
COO, Nature Profusion Sdn Bhd
Most of the disinfectant and antiseptic products in the market contain ingredients that are toxic to the skin such as paraben, triclosan, and triclocarbon. This was what Wan Sabariah Shuib and her business partners wanted to change at Nature Profusion Sdn Bhd, a spin-off company that commercialises plant and herbal based anti-MRSA technology. Developed by Forest Research Institute Malaysia (FRIM), their product named Ciéra is an eco-friendly disinfectant and antiseptic product containing natural ingredients and non-irritants.
What are your ups and downs in 2018?
Coming from a science background, I needed time to master and adapt to the business culture. With perseverance, I managed to sustain the business. I learnt that proper accounting practices and auditing is crucial for a grant recipient company like ours. Initially, we faced challenges in producing, testing and marketing our products.
We thought hospitals will be our ready-market, only to learn that they have their own disinfectant and antiseptic products. That is when we turned to hypermarkets. There are a lot of requirements to penetrate this sector which was quite challenging for us. After a lot of rejections, exploring and learning, our products are now available in six hypermarkets. The greatest moment in 2018 was that we managed to market the products to the hospitals. For me, I see the challenges in a positive manner where we should learn, solve the problems and improvise. Success will follow.
What is your resolution for 2019?
Business expansion is our first priority. We want to increase visibility of our products. We also want to diversify our products, introduce both low and high-end products so that we can approach hospital contractors easily. Our next milestone is our insect repellent, which will be launched in 2019.
As a pioneer in your field what is your aspiration for homegrown technologies in Malaysia?
We hope that the government will support products from green technology by creating more public awareness, thus, increasing appreciation for sustainable alternatives. There is a need to educate people about the benefits of green products to human and environment instead of opting for cheaper product. When there is a demand for green products the price of raw materials will go down making these products more affordable.
Suhaimi Samsudin
Founder and CEO, Etlingera Sdn Bhd
When his life turned upside down working in the IT industry, Suhaimi Samsudin thought it was time to make a drastic change in his life. He furthered his studies to pursue Masters in Biotechnology specialising in agarwood. It proved to be a wise move as he now holds the patent to induce agarwood to produce more resin in a shorter time. Instead of the usual 40 years, agarwood can now produce resins in five years with this technology. Suhaimi now helps local farmers to inoculate their trees and find buyers for the agarwood. While doing his research, he also realised the potential and demand for local herbs in the beauty industry. He then came out with premium skin care products, MyKantan that uses local herbs such as kantan (torch ginger) and ginger as ingredients.
What are your ups and downs in 2018?
Many things were not going as planned. But mistakes and failures were my biggest guru. Apart from failures, the other challenge is to compete with international brands. In my journey, I have managed to create a positive image for local brands.
What is your resolution for 2019?
I have a lot in my mind and on my plate. Besides giving a new look to MyKantan design, I want to establish a new high-end brand, SE7H, with the same formulation as MyKantan. I wish to expand SE7H to diversify my business. Next year will also see my staff being empowered to bring in more ideas and innovate products and they will be given opportunities to helm the operations. A showroom factory is in the pipeline for aspiring brand owners to have an insight of the entire manufacturing process. We also have our eyes set on Turkey and Middle East to expand our market.
As a pioneer in your field what is your aspiration for homegrown technologies in Malaysia?
The major challenge to establish local brands is the society's perception. While we have quality local products, they still fail to get public acceptance and trust. I hope the government will introduce fresh initiatives to intensify market network for local products and encourage consumers to go local.
Noor Shahiwan Ismail
CEO, Suncrox Solar Sdn Bhd
This passionate technopreneur believes in giving back to the community and helping the unfortunate through his expertise— generating electricity using solar power. Going with
the brand name Suncrox, Noor Shahiwan developed a device that regulates the voltage from solar panels to batteries. These solar installations are more suitable for buildings and small factories that use a lot of electricity and as such, will have significant savings. He uses some of his company's revenue to help rural folk such as the Orang Asli community who are living without electricity deep in the jungle.
What are your ups and downs in 2018?
Suncrox Solar has excellent experience handling both small and big installations, including the smart solar toilet for UKM, 10kW grid tie rectification for UIA, solar power-assisted buggy for Penang Hill, village street lights for a government project and a solar-powered chalet in Langkawi, among others.We have also done a number of projects in countries such as Indonesia, Thailand, Myanmar, Saudi Arabia and the Philippines. Unfortunately, 2018 was a crushing year for the team. I recently had to let go my last staff. Business deals have been slow. Despite the sun flooding the earth with enough light every hour to fulfil our energy needs, it is not easy to convince business operators to switch to solar power.
What is your resolution for 2019?
I will keep going and persevere in this business. I believe solar energy will eventually take off in Malaysia. And by then Suncrox Solar will be an established brand in this industry.
As a pioneer in your field what is your aspiration for homegrown technologies in Malaysia?
It is a good direction that the Ministry of Energy, Science, Technology, Environment and Climate Change has set a target that 20% of the country's electricity is to be generated from renewable sources by 2030. One of the biggest obstacles for entrepreneurs like me is gaining access to the right market. The government needs to encourage adoption of the technology and encourage change of mindset among individuals and organisations.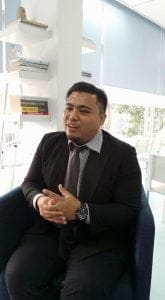 Mohd Sharul Fizam
CEO, MEDIVICE Plt
Mohd Sharul Fizam, is a passionate technopreneur who wants a better healthcare service in Malaysia. He worked with a group of researchers from Universiti Malaysia Pahang (UMP) in collaboration with a senior physiotherapist, Narimah Daud who invented a new device called Wrist Rehabilitation Device (WREHAB). The device aims to improve wrist  physiotherapy practice especially for stroke patients and patients undergoing therapies for the wrist area. The device helps to reduce the duration of physiotherapy. Medivice successfully developed the prototype of WREHAB and is ready for large-scale production that can be marketed locally and internationally.
What are your ups and downs in 2018?
As a start-up company, we were struggling to earn people's trust to accept this new technology. A local product is often seen to be inferior to international brands. Out of five rehab centres that we approached only one was willing to test the technology. Based on RMK11, there is an allocation given by the government for medical device. I believe with the support from the government we can go further.
What is your resolution for 2019?
We are planning to apply for second round funding from MTDC which has higher requirements. For this we need to be prepared in terms of certification, product improvisation, and marketing. We look forward to commercialising the product at major hospitals and rehabilitation centres next year.
As a pioneer in your field, what is your aspiration for homegrown technologies in Malaysia?
The government has helped us in terms of funding. Next is to position local brands on par with international brands and to help change people's mindset. Start-ups like us need funding to get certifications, a process that is time-consuming and costly.
This page is brought to you by
Technopreneurs Training Academy (TENTRA) is MTDC's training arm that equips technopreneurs with the skills and spirit needed to successfully march into the world of business. From ideation to start-ups and expansion, TENTRA develops and nurtures its technopreneurs of MTDC via the MTDC signature programme called Symbiosis as well as groom and grow other fund-recipient companies through various capacity development programmes.